JK Group d.o.o. / JK Group ltd
JK GROUP Ltd. /JK SKUPINA d.o.o. is the legal and tax consulting company, focus on south-east European countries. We are specializing in INFORMATION LAW that covers industries of internet, IT, ICT / telecommunications, blockchain, cryptocurrencies, privacy data, big data. We also provide legal and tax consulting for companies, legal custody (legal and tax custody) for entrepreneurs and companies. We know that a comprehensive overview and viable solutions are important in business and that partial and fragmented knowledge of individual fields is incompatible with quality. Every legal transaction has tax consequences and vice versa. So we decided to combine knowledge from the various legal and tax fields with which a modern company needs to be acquainted with ensuring a smoothly running and successful business operation.

Matija Jamnik
+ 386 (0)41 845 901
matija.jamnik@jkgroup.si
Matija Jamnik is Partner at LAW FIRM JK Group Ltd., covering mainly the representation of companies before the courts in the fields of business, labour, IT, and contract law. Graduated from the Faculty of Law in Ljubljana with Cum Laude. He is a member of Slovenia's Bar Association and the International Commercial Law Society of Slovenia. He has authored several articles for the leading print and online media. He has been a regular lecturer at legal conferences, related to business law areas. He has advised and represented numerous large and small companies from Slovenia and other EU countries and beyond. He has advised the Post and Electronic Communications Agency of the Republic of Slovenia, a big telecommunications company in Slovenia and a bank.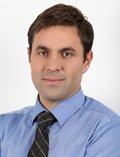 Boris Kozlevcar
Boris Kozlevcar is the Managing Partner at LAW FIRM JK Group Ltd. (IT, internet, ICT, Blockchain, GDPR law), covering main business and legal consultancy under Slovenian and European law. Main areas of his expertise are business and information law. He has been a regular lecturer at seminars organized by the Finance Academy and at other professional conferences in his field of work for many years. He has also participated in the comments on the implementation of laws and regularly writes articles published in major business print and online newspapers. He is a member of the International Association CSA. His expertise is sought after by different enterprises from various industries; he has been involved in advising small to medium-sized faster-growing companies in Slovenia up to one of the biggest companies in the field of e-commerce in the EU. Majority of clients he has consulted to originates from internet, IT and telecommunication industries.