Fox Rothschild
Fox Rothschild LLP is a U.S. law firm with more than 950 lawyers in offices throughout the country. Active in more than 60 practice areas, the firm provides a comprehensive suite of legal services to clients ranging from startups to industry-leaders. Fox's core legal services include Bankruptcy, Corporate, Employment, Entertainment, Intellectual Property, Litigation, Privacy & Data Security, Real Estate and Tax. The firm also has strong practices in Aviation, Cannabis Law, Gaming, Infrastructure and Manufacturing. Fox is an entrepreneurial firm known for advising businesses on strategic growth, and providing clients with the responsiveness and razor-sharp focus of a boutique law firm.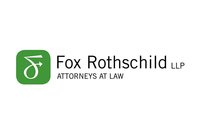 Odia Kagan
Partner, Chair of GDPR Compliance and International Privacy
Phone: (215) 444-7313
Email: OKagan@foxrothschild.com
Odia Kagan is a partner at Fox Rothschild LLP, a U.S. law firm, where she leads the GDPR Compliance & International Privacy Practice. She advises U.S. and international companies of all sizes on issues of compliance with global data privacy and security regulations. Odia writes and speaks frequently about cutting-edge cybersecurity, privacy and data security topics and is regularly interviewed and quoted by U.S. and international media outlets.
Clients rely on Odia for her knowledge of information technologies to effectively design and implement their products and services, consummate their M&A transactions and engage third-party vendors. Odia has advised more than 90 organizations, of varying sizes and industries, on compliance with the EU General Data Protection Regulation (GDPR). She relies on this experience and "lessons learned" to provide pragmatic, actionable advice to companies on their way to compliance with the California Consumer Privacy Act (CCPA).
Odia is certified by the International Association of Privacy Professionals as a Fellow of Information Privacy, a Certified Information Privacy Manager (CIPM) and a Certified Information Privacy Professional in the laws of the United States – private sector (CIPP/US), the laws of the European Union (CIPP/E) and by the PECB as a Certified Data Protection Officer (CDPO).